Results / Leigh & Lowton SC - 23/04/2022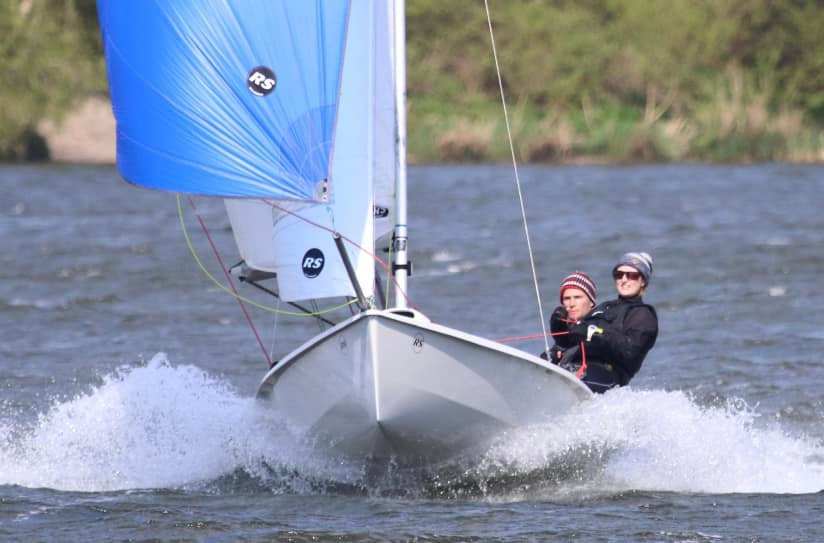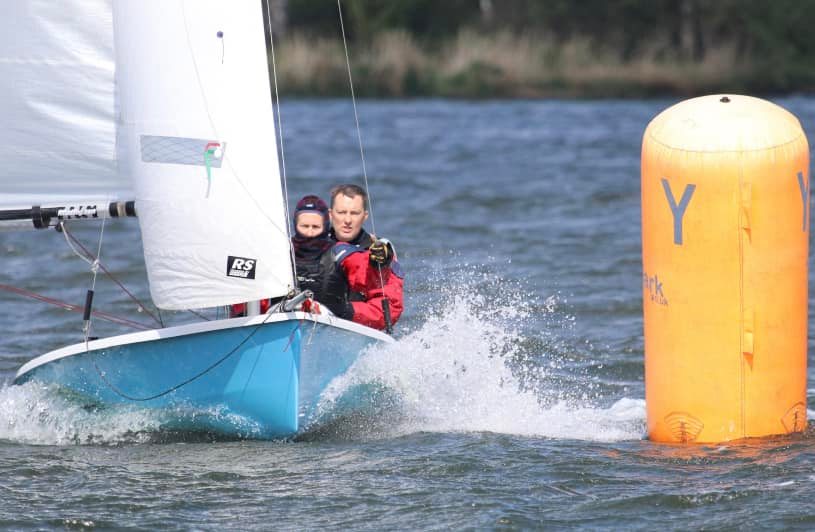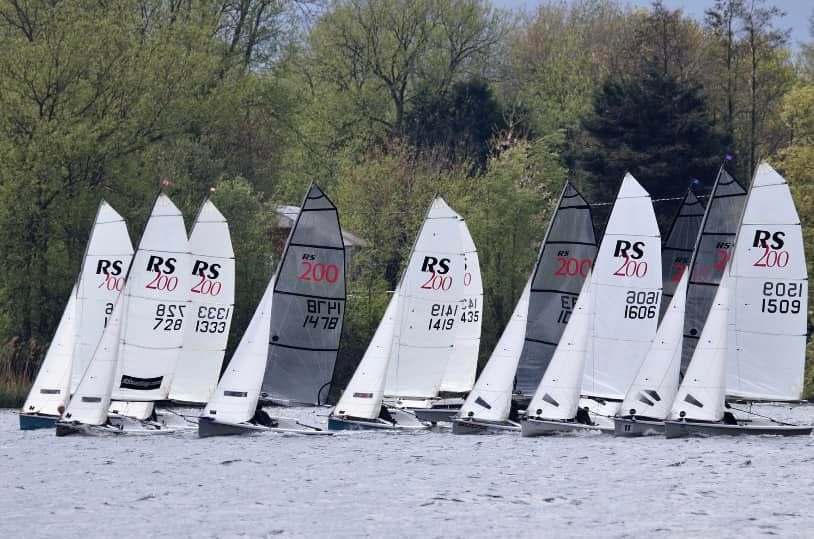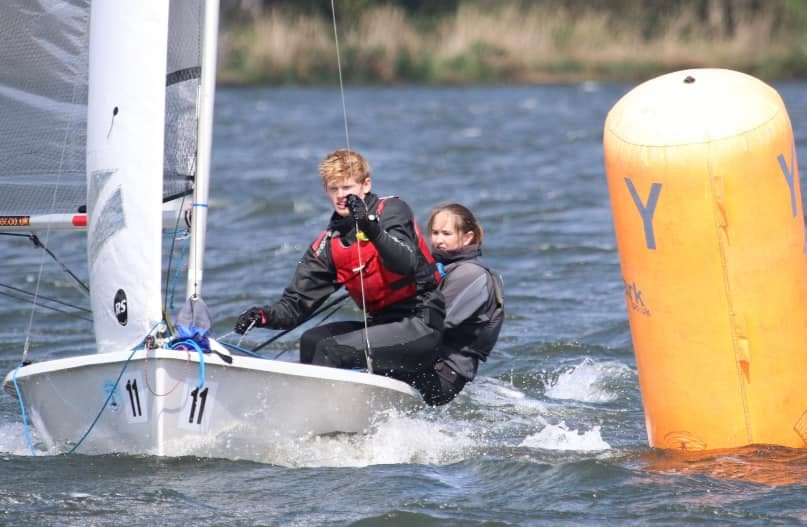 Ginger Boats Racing RS200 Northern Tour , Leigh & Lowton
Leigh and Lowton welcomed 13 boats for this year's Northern Tour kindly sponsored by Ginger Boats, 4 of which were LLSC boats, equalled by the 4 Budworth boats. As soon as you entered the sailing club grounds you could tell today was going to be a windy one, and it wasn't just the white horses that were giving this away!
The race committee were out early to ensure the course was set right for the first race which began with most of the fleet being on the line and ready, apart from a few who had ventured a little too far away up the course to see or hear the flags and horns sounding in the start sequence. Strong winds and hiking up the first beat meant those crews could get their legs stretched and ready for the tiring day ahead, however Pennington flash wasn't going to make it that easy for us as there was a huge lull at the windward mark which made it more of a race for who could ease their control lines the quickest. By this point lightweights Louise McKeand & Ross Southwell managed to sneak up 2 places to round the windward mark in fourth however it was Alistair & Helen Norris who managed to take the lead and quickly soaked downwind. They held this position and took the bullet in Race 1.
The whole fleet made sure to be at and on the line for the second race, but it was Ben Teague and Issie Bruton (1478) who won this start flying off the line to round the first mark in second place, only to realise they had rigged the kite wrong for the second time. We have been told this is entirely Ben's fault!! Crew's Alistair & Helen Norris (1509) and Adam & Martyn Catlow (728) gybed off for the first downwind catching a very tasty gust down the right-hand side of the course to take a lead away from the rest of the fleet, although the wind had filled in behind and Alex Leonard & Oliver Reyner (1709) along with Martin and Sian Joesbury (1606) were closing in rapidly. These positions remained until the last beat where 1606 & 1709 managed to get past 728 only for 1606 to capsize at the final leeward mark leaving Alistair and Helen 1st, Alex and Oliver 2nd and Adam and Martyn 3rd in race 2.
After a well-deserved lunch break thanks to Ivette, LLSC's amazing chef, all but a few boats re-launched for the final 2 races of the day. Wind still blowing OOD's Mark and Julia quickly got the racing running again, at the first mark Current leaders Alistair and Helen Norris battled with Alex Leonard & Oliver Reyner. But it was 1366 sailed by Oscar & Ralph Cawthorne that rounded 4th just behind 728 holding onto these positions for the downwind to come and the next beat only until Adam & Martyn Catlow decided to take a swim while gybing just after the next mark. By this point the wind had really built which meant that sailors really had to chose the right side of the course to avoid the gusts upwind and ensure that they sail into them downwind. Once again Alistair and Helen Norris took this race but, not without a fight from GIngerboats Alex Leonard and Oliver Rayner. Both Budworth 1606 and 1419 took 3rd and 4th respectively.

LLSC's Louise McKeand and Ross Southwell in a borrowed boat managed to finish Race 3 with a snapped Main Halyard and sail in along with Martin and Sian Joesbury.
7 boats remained for the final race which was really going to be some fun! Amazingly we had waves to get over now too, just to confuse those helms even more…
Race 4 is a bit of a blur for us and I'm guessing it's the same for most of the other boats too, all boats started clear of the line with lots of space for acceleration. The Norris's in 1509 squeezed 728 into tacking off early only to be bounced back onto starboard by another boat further up the course.
The whole fleet headed left similar to the previous races. 1709 and 1509 fought hard down the first downwind with most of the fleet fighting to stay upright through the gybes. Shortly after the second windward mark 728 had quite the ridiculous capsize leaving rescue crew Martin Spencer and Alex Alcock in hysterics. Once recovered they rehoisted in an attempt to catch Budworth's 1419 downwind along with the escaping fleet ahead, 1419 won this down the left side. Adam & Martyn (728) were unlucky enough to suffer a snapped shroud just Infront of the committee boat, taking their mast and sails down with it! This left 6 boats in a close fight for the last few laps.
Again Alistair & Helen Norris took first but not without a fight from Alex Leonard and Oliver Rayner who took second followed by Russel & Vicky Page third, 1333 fourth, 1366 fifth, 1402 sixth.
Once ashore everyone certainly looked tired and quite damp, if not from a capsize then it was from the spray, although I'm sure there were only 1 or 2 boats that didn't go over today!

In the end Alistair & Helen Norris and Alex Leonard Oliver Rayner took First and Second after a very consistent regatta, although only 4 points behind were Russel & Vicky Page in Third. Alistair & Helen won the raffle which contained a prize of a spliced set of Jib and Spinnaker Sheets provided by our Event Sponsor Ginger Boats.
Happy Sailing
Thanks
Adam & Martyn Catlow
Photos: Jon Cawthorne
RS200 Open
Leigh and Lowton SC
Overall
| Rank | SailNo | Club | HelmName | CrewName | R1 | R2 | R3 | R4 | Total | Nett |
| --- | --- | --- | --- | --- | --- | --- | --- | --- | --- | --- |
| 1st | 1509 | LLSC | Alistair Norris | Helen Norris | (1.0) | 1.0 | 1.0 | 1.0 | 4.0 | 3.0 |
| 2nd | 1709 | Bassenthwaite Sc | Alex Leonard | Oliver Reyner | (2.0) | 2.0 | 2.0 | 2.0 | 8.0 | 6.0 |
| 3rd | 1419 | Budworth Sc | Russell Page | Vicky Page | 3.0 | (6.0) | 4.0 | 3.0 | 16.0 | 10.0 |
| 4th | 1606 | Budworth Sc | Martin Joesbury | Sian Joesbury | 4.0 | 4.0 | 3.0 | (14.0 DNC) | 25.0 | 11.0 |
| 5th | 728 | LLSC | Adam Catlow | Martyn Catlow | 6.0 | 3.0 | 5.0 | (14.0 DNF) | 28.0 | 14.0 |
| 6th | 1333 | Yorkshire Dales Sc | M/o Rayner | Ben Rayner | 8.0 | (10.0) | 6.0 | 4.0 | 28.0 | 18.0 |
| 7th | 1033 | LLSC | Louise McKeand | Ross Southwell | 5.0 | 5.0 | 8.0 | (14.0 DNC) | 32.0 | 18.0 |
| 8th | 1366 | Shustoke Sc | Oscar Cawthorne | Ralph Cawthorne | (14.0 DNF) | 8.0 | 9.0 | 5.0 | 36.0 | 22.0 |
| 9th | 1402 | Yorkshire Dales Sc | Ben Dearden | Ffion Morgan | 10.0 | (12.0) | 7.0 | 6.0 | 35.0 | 23.0 |
| 10th | 1730 | Budworth Sc | Kevin Gerald | Wendy Martin | 7.0 | 7.0 | (14.0 DNC) | 14.0 DNC | 42.0 | 28.0 |
| 11th | 1478 | Abersoch Sc | Ben Teague | Issie Burton | 11.0 | 9.0 | (14.0 DNC) | 14.0 DNC | 48.0 | 34.0 |
| 12th | 891 | LLSC | Dan McLean | Ava McLean | 9.0 | (14.0 DNC) | 14.0 DNC | 14.0 DNC | 51.0 | 37.0 |
| 13th | 1435 | Budworth Sc | Huge Smallman | Debroah Love | (14.0 DNF) | 11.0 | 14.0 DNC | 14.0 DNC | 53.0 | 39.0 |
Sailwave Scoring Software 2.29.0
www.sailwave.com