Results / Southern Championships (SAT ONLY for RS200 SWUT) Parkstone YC - 16/07/2022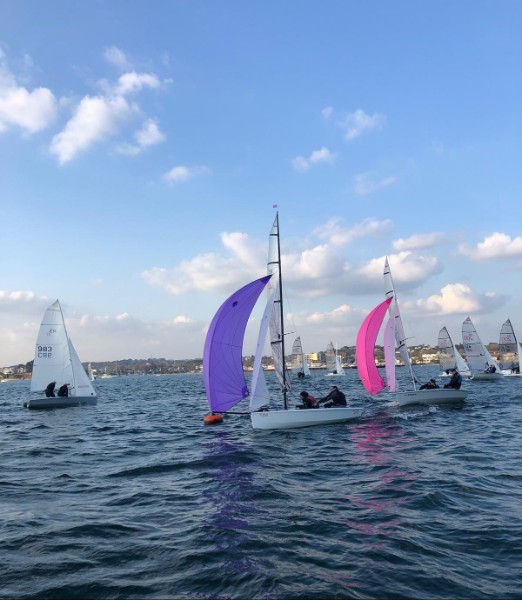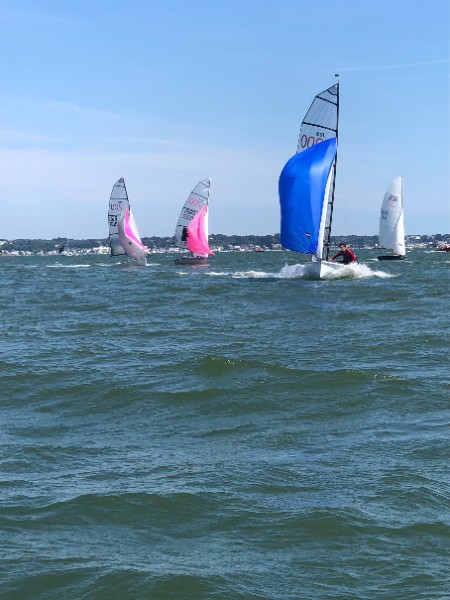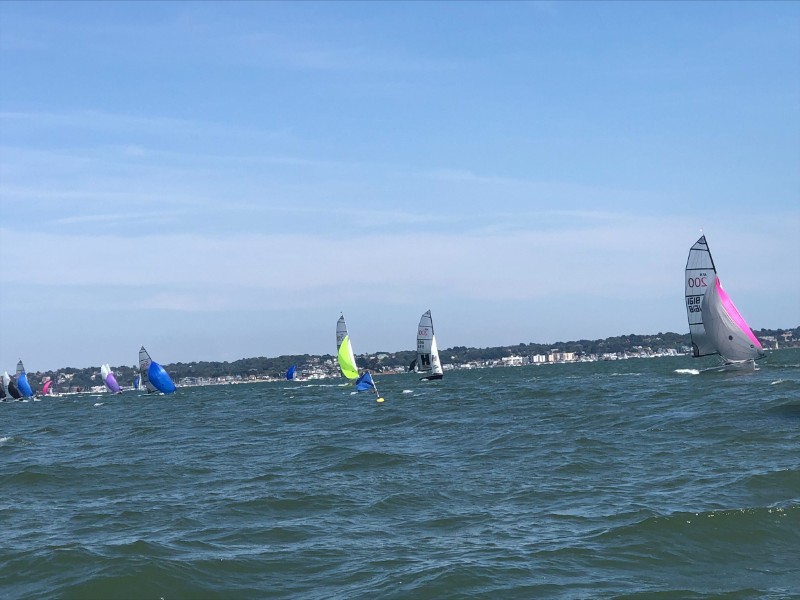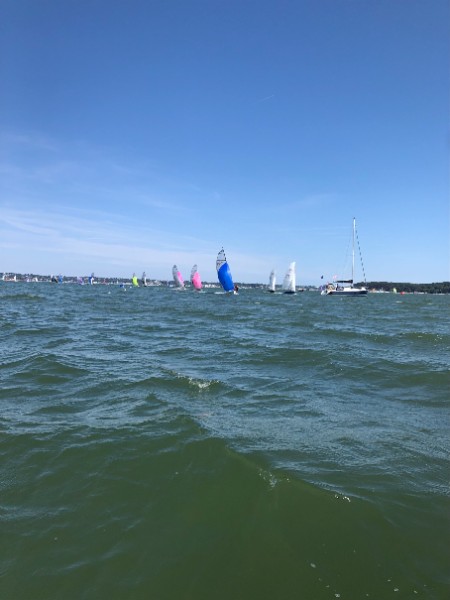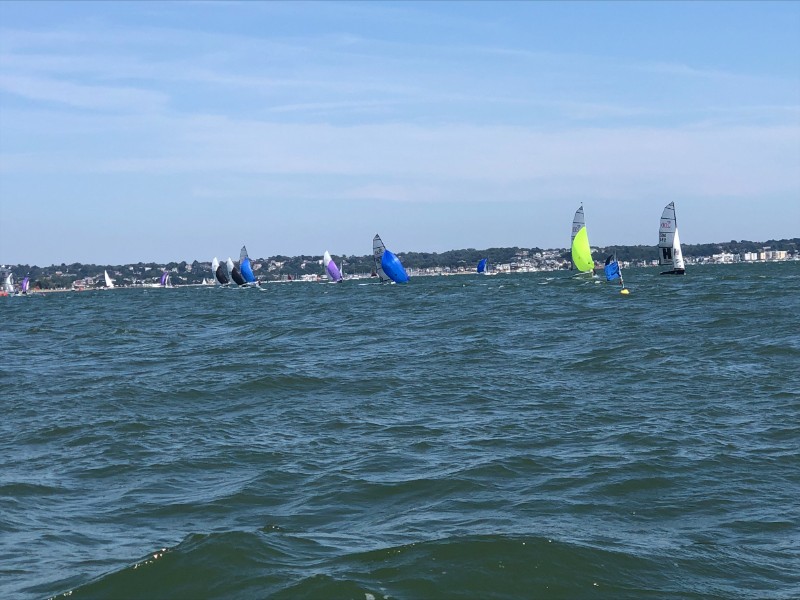 RS200 Southern Championships, Parkstone YC, Rooster National Tour, and West Country Boat Repairs SW Ugly Tour
An impressive full entry of 40 boats travelled to Parkstone YC on 16th July for the RS200 Southern Championships for a weekend event on the Rooster National Tour, combined with a 1-day event for the West Country Boat Repairs SW Ugly Tour.
The fleet were greeted with a lovely 10-15 knot breeze and wall-to-wall sunshine that stayed throughout the day. Race Officer Bryan Drake and his team did a fantastic job to get 4 races away on day 1, with tight racing throughout the fleet. After racing, a tired fleet came ashore to the welcome sight of an ice cream van giving out free ice creams!
A lovely curry dinner followed, and this concluded the SW Ugly Tour event, with Chris Catt and Ian Martin taking the honours, from Robe Henderson and Elouise Mayhew in 2nd and Hamish Walker and Emma Hivey in 3rd.
Conditions were similar on day 2, glorious sunshine and 10-15 knot winds. The Race Officer set 2 longer 3-lap races, which once again produced tight racing where any small mistake could cost multiple places, as demonstrated by the author of this report with a capsize on the final leg of one race!
Once ashore the fleet enjoyed delicious cakes baked by the club members – we really do love Parkstone YC!
Congratulations to Ian Martin and Chris Catt who sailed a consistent series to win by 5 points from Hamish Walker and Emma Hivey. Niki Birrell and Ben Whaley were 3rd on equal points with Matt Mee and Tom Pygall, leaving Ben asking Niki if they'd left it too late to enter the 'insane' 170 boat RS200 Nationals!
The Rooster Endeavour prize went to Alex and Mike Cleaver, who had travelled all the way from Budworth SC.
Many thanks to all at Parkstone YC for delivering another seamless and memorable event and of course to our sponsors Rooster and West Country Boat Repairs.
Niki Birrell
RS200 and RS400 National Tour- Southern Championships
Parkstone Yacht Club
Results are provisional as of 13:32 on July 17, 2022
RS200 Class
| Rank | Sail Number | Helm | Crew | Club | R1 | R2 | R3 | R4 | R5 | R6 | Total | Nett |
| --- | --- | --- | --- | --- | --- | --- | --- | --- | --- | --- | --- | --- |
| 1st | 1603 | Ian Martin | Chris Catt | Netley SC | (9.0) | 2.0 | 1.0 | 3.0 | 1.0 | 6.0 | 22.0 | 13.0 |
| 2nd | 1702 | Hamish Walker | Emma Hivey | RNSA/ASA | 2.0 | 4.0 | 3.0 | 7.0 | 2.0 | (13.0) | 31.0 | 18.0 |
| 3rd | 1136 | Niki birrell | Ben whaley | Parkstone yc | 5.0 | 6.0 | 5.0 | 2.0 | (7.0) | 2.0 | 27.0 | 20.0 |
| 4th | 1615 | Matt Mee | Tom Pygall | Burghfield | 3.0 | (13.0) | 7.0 | 4.0 | 3.0 | 3.0 | 33.0 | 20.0 |
| 5th | 1652 | will storey | Kate Allam | Pyc | (16.0) | 7.0 | 6.0 | 1.0 | 4.0 | 5.0 | 39.0 | 23.0 |
| 6th | 1647 | Richard Edwards | Lila Edwards | Parkstone Yacht Club | (12.0) | 5.0 | 4.0 | 10.0 | 6.0 | 1.0 | 38.0 | 26.0 |
| 7th | 1019 | James Williams | Sarah Tuppen | Chew Valley Lake SC | 1.0 | 3.0 | 15.0 | (21.0) | 13.0 | 11.0 | 64.0 | 43.0 |
| 8th | 1625 | Karen Oldale | Jo Hewitson | Parkstone | 10.0 | 9.0 | 9.0 | 5.0 | (12.0) | 10.0 | 55.0 | 43.0 |
| 9th | 1521 | Matt Venables | Bethan Matthew | Sutton/Royal Thames | 6.0 | 11.0 | (16.0) | 14.0 | 8.0 | 7.0 | 62.0 | 46.0 |
| 10th | 16 | Chris Webber | Nicki Webber | Pevensey Bay SC | (41.0 RET) | 10.0 | 8.0 | 11.0 | 10.0 | 8.0 | 88.0 | 47.0 |
| 11th | 965 | Alex Smallwood | Callum Farnden | Datchet Water SC | 7.0 | 8.0 | 12.0 | (15.0) | 9.0 | 12.0 | 63.0 | 48.0 |
| 12th | 861 | Duncan Glen | Lorna Glen | Parkstone YC | 20.0 | (27.0) | 10.0 | 13.0 | 5.0 | 4.0 | 79.0 | 52.0 |
| 13th | 629 | Rob Henderson | Elouise Mayhew | Salcombe YC / Royal Harwich YC / Waldrin | 4.0 | 1.0 | 2.0 | 6.0 | (41.0 DNC) | 41.0 DNC | 95.0 | 54.0 |
| 14th | 1667 | Owen Bowerman | Annabelle Orme | HSIC | (18.0) | 15.0 | 18.0 | 9.0 | 11.0 | 14.0 | 85.0 | 67.0 |
| 15th | 964 | Chris Thomas | Verity Hopkins | Weir Wood SC | 15.0 | 14.0 | 17.0 | (28.0) | 17.0 | 9.0 | 100.0 | 72.0 |
| 16th | 1078 | Merrick Stanley | Victoria Upton | Llandegfedd SC | 11.0 | 17.0 | 13.0 | (18.0) | 14.0 | 17.0 | 90.0 | 72.0 |
| 17th | 1694 | Bruce Grant | Maddy Kirk | Itchenor Sailing Club | 27.0 | (30.0) | 11.0 | 8.0 | 21.0 | 15.0 | 112.0 | 82.0 |
| 18th | 1395 | Nigel Bird | Andy Bird | R.Y.A | 8.0 | (25.0) | 24.0 | 17.0 | 15.0 | 22.0 | 111.0 | 86.0 |
| 19th | 1178 | Julian Bradley | Helen Cafferata | Wembley | 23.0 | 21.0 | (27.0) | 16.0 | 18.0 | 16.0 | 121.0 | 94.0 |
| 20th | 594 | Kyle Brown | Madeline Strugnell | Restronguet SC | 17.0 | 22.0 | (31.0) | 20.0 | 24.0 | 19.0 | 133.0 | 102.0 |
| 21st | 1720 | Chris Mayhew | Nicole Mayhew | Waldringfield SC and Royal Harwich YC | 13.0 | 12.0 | 19.0 | 19.0 | (41.0 DNC) | 41.0 DNC | 145.0 | 104.0 |
| 22nd | 1151 | Jake Hardman | Emma Hartley | HISC/Parkstone YC | 21.0 | 18.0 | 25.0 | (38.0) | 16.0 | 24.0 | 142.0 | 104.0 |
| 23rd | 1340 | Edward Harris | James Bennett | Chew Valley Lake SC | (36.0) | 32.0 | 23.0 | 12.0 | 22.0 | 29.0 | 154.0 | 118.0 |
| 24th | 1618 | James Ross | Monty Ross | Netley SC | (35.0) | 16.0 | 30.0 | 26.0 | 19.0 | 27.0 | 153.0 | 118.0 |
| 25th | 1699 | Douglas Calder | David Calder | RNSA | (30.0) | 23.0 | 26.0 | 23.0 | 26.0 | 23.0 | 151.0 | 121.0 |
| 26th | 541 | Milly Tregaskes | Taryn Banks | Restronguet | 19.0 | (34.0) | 28.0 | 30.0 | 27.0 | 18.0 | 156.0 | 122.0 |
| 27th | 322 | Freya Brown | Grace O'Hallaran | Restronguet SC | 22.0 | 20.0 | (36.0) | 32.0 | 28.0 | 21.0 | 159.0 | 123.0 |
| 28th | 975 | Matt Thornton | Laura Bevan | Parkstone Yacht Club | 29.0 | 28.0 | 20.0 | 25.0 | 23.0 | (41.0 DNC) | 166.0 | 125.0 |
| 29th | 1358 | Charlie Whitaker | Andrew Wishart | Queen Mary SC | 14.0 | 24.0 | 21.0 | 27.0 | (41.0 DNC) | 41.0 DNC | 168.0 | 127.0 |
| 30th | 1658 | John Harvey | Sarah Maddison | Thornbury Sailing Club | 24.0 | 19.0 | 22.0 | 22.0 | (41.0 DNC) | 41.0 DNC | 169.0 | 128.0 |
| 31st | 1665 | Peter Loretto | Kelly Aaron | Parkstone | 25.0 | 26.0 | 14.0 | 24.0 | (41.0 DNC) | 41.0 DNC | 171.0 | 130.0 |
| 32nd | 386 | Daniel Tregaskes | Polly Tregaskes | Restronguet | 32.0 | 33.0 | (37.0) | 33.0 | 25.0 | 20.0 | 180.0 | 143.0 |
| 33rd | 1402 | Ffion Morgan | Ben Dearden | Exe Sailing Club / Yorkshire Dales SC | 28.0 | 29.0 | (32.0) | 29.0 | 31.0 | 26.0 | 175.0 | 143.0 |
| 34th | 1585 | Tony Wilkinson | Michelle Wilkinson | Parkstone | 26.0 | (31.0) | 29.0 | 31.0 | 29.0 | 30.0 | 176.0 | 145.0 |
| 35th | 983 | Shaun Robson | Marie Smith | Parkstone | 33.0 | (37.0) | 35.0 | 34.0 | 32.0 | 28.0 | 199.0 | 162.0 |
| 36th | 1685 | Roger | Phil Brook | PYC | (37.0) | 35.0 | 33.0 | 35.0 | 33.0 | 31.0 | 204.0 | 167.0 |
| 37th | 1637 | Kim Gavin | Sarah Gavin | Parkstone YC | (41.0 DNC) | 41.0 DNC | 41.0 DNC | 41.0 DNC | 20.0 | 25.0 | 209.0 | 168.0 |
| 38th | 978 | Alex Cleaver | Mike Cleaver | Budworth SC/Swanage SC | 34.0 | (38.0) | 38.0 | 36.0 | 30.0 | 32.0 | 208.0 | 170.0 |
| 39th | 1674 | Stuart Totten | Jill Totten | Parkstone | 31.0 | 36.0 | 34.0 | 37.0 | (41.0 DNC) | 41.0 DNC | 220.0 | 179.0 |
| 40th | 1679 | Dave Pointer | Jan Pointer | Parkstone YC | (41.0 DNC) | 41.0 DNC | 41.0 DNC | 41.0 DNC | 41.0 DNC | 41.0 DNC | 246.0 | 205.0 |