RS300 RS300 Rooster National Tour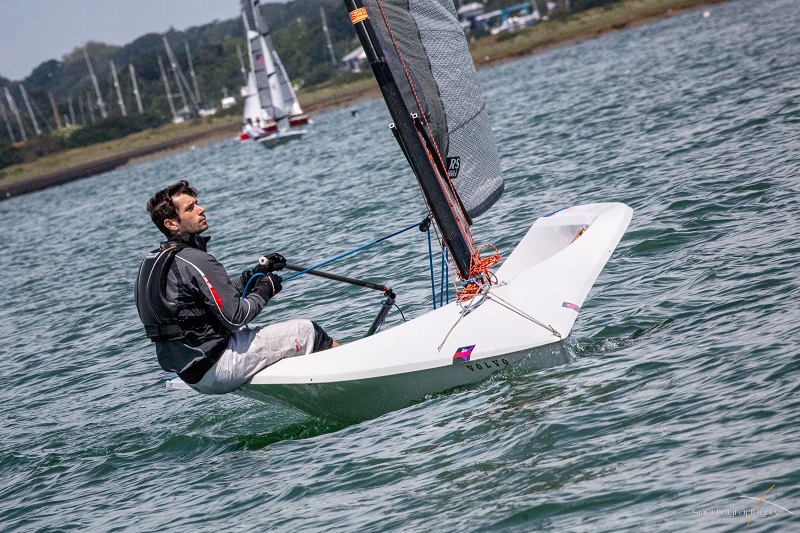 18 intrepid RS300 sailors have so far ventured onto the 2019 RS300 Rooster National Tour with events at South Cerney, Rutland, Notts County, Lymington Town, and Filey Sailing Clubs, and the Weymouth Dinghy Regatta. The next event is number six which is the Inlands at Stewartby WSC 12-13 Oct. Fleet racing is the best fun for one designs so sort out your trailer and hit the road!
Great RS300 photo of RS300 Summer Regatta winner Harry McVicar taken by Sportography.
Results thanks to Paul Watson.
| | | | | | | | | | | |
| --- | --- | --- | --- | --- | --- | --- | --- | --- | --- | --- |
| Position | Name | Best 3 | South Cerney | Rutland | Notts County | Lymington | Filey | Weymouth | Inlands | EOS |
| 1 | Harry McVicar | 3 | 19 | 1 | 1 | 1 | 19 | 19 | | |
| 2 | Paul Watson | 6 | 1 | 19 | 19 | 4 | 1 | 19 | | |
| 3 | Steve Sallis | 6 | 5 | 2 | 2 | 19 | 2 | 19 | | |
| 4 | Richard Le Mare | 9 | 3 | 19 | 4 | 19 | 19 | 2 | | |
| 5 | Cheryl Wood | 16 | 9 | 5 | 8 | 19 | 3 | 19 | | |
| 6 | Steve Bolland | 22 | 2 | 19 | 19 | 19 | 19 | 1 | | |
| 7 | Matthew Pedlow | 26 | 4 | 19 | 3 | 19 | 19 | 19 | | |
| 8 | Ben Green | 29 | 6 | 19 | 19 | 5 | 19 | 19 | | |
| 9 | Robert Ford | 30 | 8 | 3 | 19 | 19 | 19 | 19 | | |
| 10 | Ben Heppenstall | 36 | 10 | 19 | 7 | 19 | 19 | 19 | | |
| 11 | Mark Cooper | 40 | 19 | 19 | 19 | 2 | 19 | 19 | | |
| 12 | Mark Newton | 41 | 19 | 19 | 19 | 3 | 19 | 19 | | |
| 13 | Sam Davy | 42 | 19 | 4 | 19 | 19 | 19 | 19 | | |
| 14 | Chris Arnell | 43 | 19 | 19 | 5 | 19 | 19 | 19 | | |
| 15 | Pete Davies | 44 | 19 | 19 | 6 | 19 | 19 | 19 | | |
| 16 | Richard Hargreaves | 45 | 7 | 19 | 19 | 19 | 19 | 19 | | |
| 17 | Ross Ryan | 47 | 19 | 19 | 9 | 19 | 19 | 19 | | |
| 18 | Gary Morris | 49 | 11 | 19 | 19 | 19 | 19 | 19 | | |