RS300 RS300 Rooster National Tour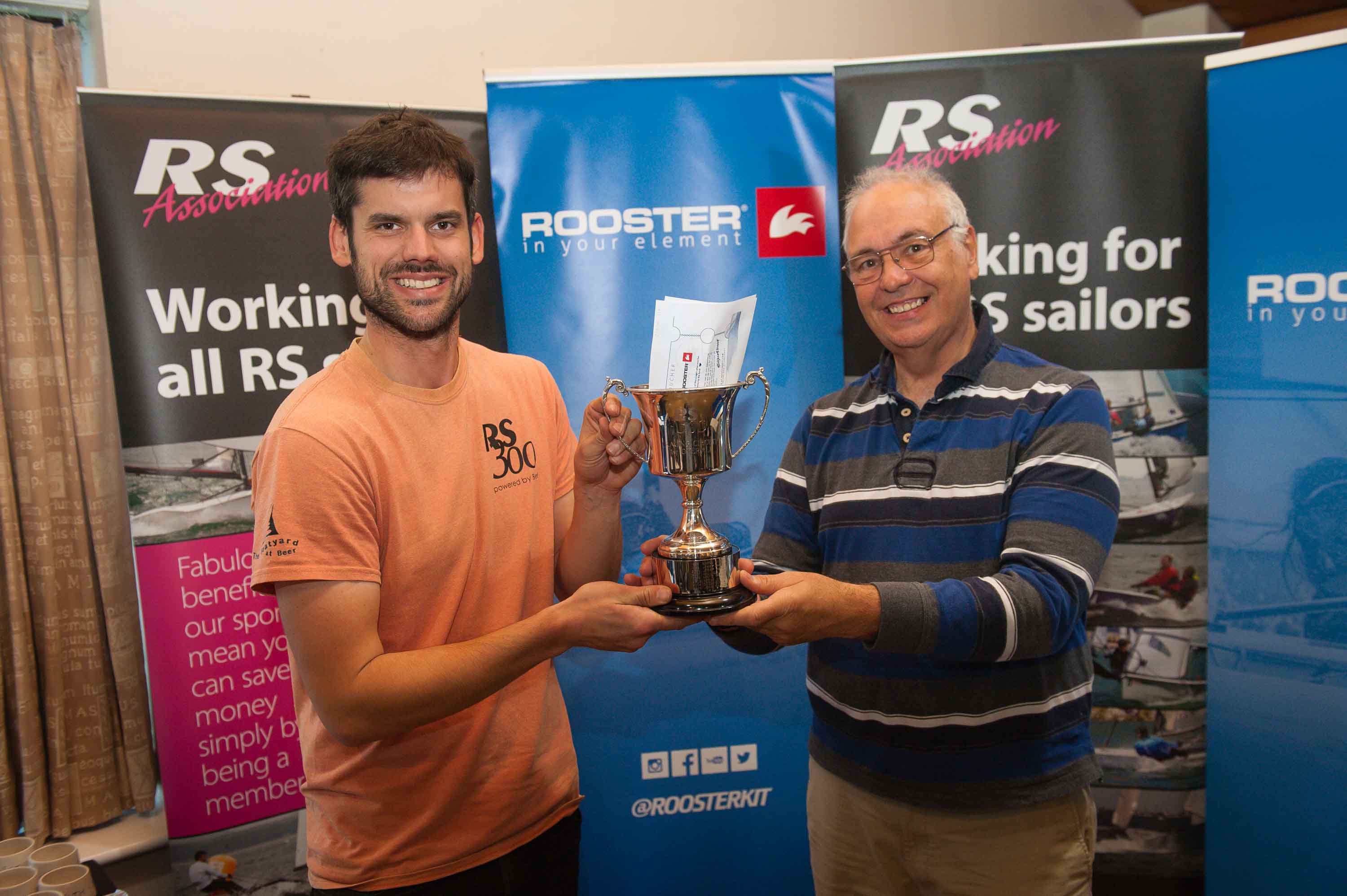 Congratulations to Paul Watson RS300 Rooster National Tour Champion for 2018!
Thirty nine intrepid RS300 sailors competed in the eight events on the RS300 Rooster National Tour: Bowmoor, Sprints, Scottish Champs, Summer Champs, Lord Birkett, West Kirby, Inlands at Alton Water SC and the RS End of Seasons Regatta at Rutland SC.
The tour was eight events with three to count.
Sailors competing in the Rooster National Tour events were eligible for the limited edition special Rooster National Tour neck gaiter. It was only one per sailor and three per event so there was a good chance you could win one! Our lucky winners were Steve Bolland, Peter Mackin, Alastair McLaughlin, Paul Watson, Steve Sallis, Cheryl Wood, Ian Baillie, Paul Rigg, Neil Beveridge, Dave Acres, Harry McVicar, Ben Heppenstall, Richard le Mare, Dan Skinner, Chris Massey, Ian Hearsum Dave Houghton, Richard Fryer, James Phare, Mark Cooper and Matt Pedlow.
Results thanks to Paul Watson. Happy RS300 Rooster National Tour Champion photo thanks to Peter Fothergill of www.fothergillphotography.com
And a very big thank you to Rooster for generously sponsoring the tour!
Here's to a smashing 2019 of RS300 sailing! See you on the water!
Find your 2019 RS300 calendar here
| | | | | | | | | | | | |
| --- | --- | --- | --- | --- | --- | --- | --- | --- | --- | --- | --- |
| Position | Name | Overall | Best 3 | Bowmoor | Sprints | Scottish Champs | Summers | Lord Birkett | West Kirby | Inlands | EOS |
| 1 | Paul Watson | 90 | 4 | 4 | 1 | 38 | 2 | 38 | 2 | 1 | 4 |
| 2 | Harry McVicar | 165 | 7 | 38 | 6 | 38 | 3 | 38 | 3 | 38 | 1 |
| 3 | Steve Sallis | 199 | 9 | 38 | 2 | 38 | 38 | 38 | 5 | 2 | 38 |
| 4 | Richard Le Mare | 200 | 10 | 6 | 3 | 38 | 38 | 38 | 1 | 38 | 38 |
| 5 | Mark Cooper | 172 | 12 | 8 | 5 | 38 | 4 | 38 | 38 | 38 | 3 |
| 6 | Cheryl Wood | 162 | 23 | 12 | 9 | 38 | 38 | 38 | 8 | 13 | 6 |
| 7 | Alastair Wood | 216 | 26 | 7 | 8 | 38 | 38 | 38 | 11 | 38 | 38 |
| 8 | Alistair McLaughlin | 238 | 48 | 3 | 38 | 38 | 38 | 38 | 7 | 38 | 38 |
| 9 | Ben Happenstall | 239 | 49 | 38 | 38 | 38 | 7 | 38 | 38 | 4 | 38 |
| 10 | Richard Hargreaves | 240 | 50 | 5 | 38 | 38 | 38 | 38 | 38 | 7 | 38 |
| 11 | Ben Green | 243 | 53 | 10 | 38 | 38 | 5 | 38 | 38 | 38 | 38 |
| 12 | Rob Ford | 243 | 53 | 38 | 38 | 38 | 38 | 38 | 38 | 8 | 7 |
| 13 | Pete Ellis | 244 | 54 | 38 | 4 | 38 | 38 | 38 | 38 | 12 | 38 |
| 14 | Gary Morris | 248 | 58 | 11 | 38 | 38 | 9 | 38 | 38 | 38 | 38 |
| 15 | Ian Baillie | 267 | 77 | 38 | 38 | 1 | 38 | 38 | 38 | 38 | 38 |
| 16 | Steve Bolland | 267 | 77 | 1 | 38 | 38 | 38 | 38 | 38 | 38 | 38 |
| 17 | Dave Acres | 267 | 77 | 38 | 38 | 38 | 1 | 38 | 38 | 38 | 38 |
| 18 | Mark Henman | 267 | 77 | 38 | 38 | 38 | 38 | 1 | 38 | 38 | 38 |
| 19 | Paul Rigg | 268 | 78 | 38 | 38 | 2 | 38 | 38 | 38 | 38 | 38 |
| 20 | Peter Mackin | 268 | 78 | 2 | 38 | 38 | 38 | 38 | 38 | 38 | 38 |
| 21 | Matthew Pedlow | 268 | 78 | 38 | 38 | 38 | 38 | 38 | 38 | 38 | 2 |
| 22 | Neil Beveridge | 269 | 79 | 38 | 38 | 3 | 38 | 38 | 38 | 38 | 38 |
| 23 | Ian Hearsum | 269 | 79 | 38 | 38 | 38 | 38 | 38 | 38 | 3 | 38 |
| 24 | John Wilson | 270 | 80 | 38 | 38 | 4 | 38 | 38 | 38 | 38 | 38 |
| 25 | Dan Skinner | 270 | 80 | 38 | 38 | 38 | 38 | 38 | 4 | 38 | 38 |
| 26 | John Shaw | 271 | 81 | 38 | 38 | 5 | 38 | 38 | 38 | 38 | 38 |
| 27 | Richard Fryer | 271 | 81 | 38 | 38 | 38 | 38 | 38 | 38 | 5 | 38 |
| 28 | James Phare | 271 | 81 | 38 | 38 | 38 | 38 | 38 | 38 | 38 | 5 |
| 29 | Mark Newton | 272 | 82 | 38 | 38 | 38 | 6 | 38 | 38 | 38 | 38 |
| 30 | Chris Massey | 272 | 82 | 38 | 38 | 38 | 38 | 38 | 6 | 38 | 38 |
| 31 | David Houghton | 272 | 82 | 38 | 38 | 38 | 38 | 38 | 38 | 6 | 38 |
| 32 | Thomas Moore | 273 | 83 | 38 | 7 | 38 | 38 | 38 | 38 | 38 | 38 |
| 33 | John Turner | 274 | 84 | 38 | 38 | 38 | 8 | 38 | 38 | 38 | 38 |
| 34 | Emily Watson | 275 | 85 | 9 | 38 | 38 | 38 | 38 | 38 | 38 | 38 |
| 35 | Chris Gaskin | 275 | 85 | 38 | 38 | 38 | 38 | 38 | 9 | 38 | 38 |
| 36 | Oli Harris | 275 | 85 | 38 | 38 | 38 | 38 | 38 | 38 | 9 | 38 |
| 37 | Stu Dawson | 276 | 86 | 38 | 38 | 38 | 38 | 38 | 10 | 38 | 38 |
| 38 | Jamie Freeman | 276 | 86 | 38 | 38 | 38 | 38 | 38 | 38 | 10 | 38 |
| 39 | Bob Peak | 277 | 87 | 38 | 38 | 38 | 38 | 38 | 38 | 11 | 38 |